Drive your business forward with BACS IT Consulting— the leading Managed Service Provider (MSP) in the San Jose Area
Table of Contents
1. Efficient, Reliable Managed IT Services for Businesses Like Yours
San Jose Managed IT services have emerged as a powerful resource as businesses discover the advantages of working with an outside IT expert to help keep their IT operations running efficiently, reliably, and securely. In an era where technology is a fundamental driver of business growth, trustworthy IT services are more critical than ever.
At BACS IT, we bring deep industry and technology expertise to the complex world of IT. Our IT consultants work with you to understand your goals, business processes, and technology environment to help you make informed decisions and chart an optimum path to success.
Bolster Your Security Defenses
Today's IT environments are complex and diverse. They are physical, virtual, and distributed across geographies, making it increasingly difficult to identify vulnerabilities and threats that could put your data and business assets at risk. Considering the fact that there are three cyberattacks every two minutes, businesses are under a constant threat from all directions. That's where BACS IT managed security services can help.
At BACS IT, we understand network downtime is the number one enemy of any business. A network data breach or interruption in operations can hurt sales, injure your company's reputation, and destroy any hope of increasing productivity. The monetary cost of these breaches is enormous. Estimates are that the worldwide cost of cybercrime is between $5 and $10 Trillion annually.
That's why we offer industry-leading business continuity planning and cloud backup services predicated on managed, secure information systems to help you protect your business. In the event of a disaster or security breach, you need to be able to recover quickly. BACS IT will work with you to assess your cloud technology and IT environment. Then we will develop a disaster recovery plan that safeguards your infrastructure and data while protecting against ongoing threats.
We are well-equipped with the deep knowledge and specialized expertise needed to tackle today's difficult security challenges. We combine cutting-edge managed security services with a holistic, multi-layered approach to help strengthen your defenses and protect your vital business assets from new and emerging threats.
BACS IT specializes in cybersecurity.
2. How Should I Choose My Managed IT Service Provider?
More and more companies rely on the internet to conduct their business. In fact, there are nearly 2 billion websites currently that do nearly $1 Trillion in revenue annually, with that number growing each and every day! Your business likely needs both your website and the internet to bring in some, if not all your revenue. Keeping your website and network up and running is a 24-hour-a-day, seven-day-a-week job. Anytime that your website or app is down, it can prevent potential customers from working with your business and potentially frustrate current customers.
Businesses now outsource their IT management to managed service providers who take care of most day-to-day IT management. Many business owners may not know what they should look for when choosing a managed IT service provider. Your business needs a managed IT service provider that can handle all your needs, not just help out here and there.
When interviewing managed service providers in San Jose, there are multiple questions you need to ask. Here are some examples:
1. What type of disaster mitigation plan could I expect if I worked with you?
Any managed IT service provider worth consideration will have a proper disaster mitigation plan in place for when a problem does occur. You should ask to see an example of a backup mitigation plan. BACS IT develops customized mitigation plans for businesses we work with.
2. How much experience do you have providing managed IT services?
You need a San Jose managed IT service provider with many years of experience behind them. You do not want to work with a managed IT service provider who does not have experience to rely on when creating your customized plans. BACS IT has been around for more than a decade. We are dedicated to growing with your business.
3. What is your experience working with the cloud for a business my size?
A managed IT service provider needs plenty of experience working with the cloud. The cloud can improve your team's productivity immensely. Employees can access data and applications from anywhere there is an internet connection, and right now, 1 out of every 5 folders have zero protection. BACS IT works with businesses of all sizes to move their business operations onto the cloud where these folders are safe, no matter where they get accessed from. Be sure to ask for references within your industry.
BACS IT has the right IT security, cloud services, and IT services to ensure your business can operate safely and continue to grow. Reach out to BACS IT today to learn more about how our team can help your business manage all of your IT operations.
3. We Offer a Range of Managed IT Services Tailored to Your Business
When your business is ready to grow, you will need a team of IT specialists to help keep your business safe. Data loss is a very real problem businesses face, and they come from several directions. For example, about 90% of data loss comes equally from three problems – software or hardware problems, malware of some type, and human error. Thankfully, there are many different aspects of managed IT services that could bolster the safety of your business now and into the future. Here are some of the most important managed IT services to consider. If you want to hear from our CTO about how BACS IT can keep businesses safe, please see the video near the bottom of this page!
4. San Jose's IT Services Firm of Choice
Put your IT support and security needs in the hands of experts
IT organizations today face an ongoing management challenge as they strive to secure and protect their network and cloud computing infrastructure from rising threats. From Santa Clara to San Jose and beyond, BACS Consulting Group's managed security services are the logical choice in network maintenance and security solutions for small and midsize businesses, as well as enterprise-level companies with global reach and name recognition.
BACS IT experts understand the complexities of cloud technology and managed IT support and work to help ensure your IT systems and processes are aligned with business priorities and will scale appropriately. We are proud to be technology partners with businesses of all sizes and types, from small local firms to global enterprises.
Working with BACS IT allows you to gain access the managed security services in San Jose that can help maintain uptime, safeguard assets, and sustain profitability. Managed IT services allows you to have monitoring of your entire network 24/7, leaving you with 99.9% uptime. Considering this – on average, data breaches cost, on average, $25 per minute. This may not sound like much, but when you learn that it takes, on average, 280 days to discover a data breach, that number becomes overwhelming. Do you have that much expendable income in your business to give away?
Our focus on your network security allows you to grow your business while we work quietly in the background, keeping your systems safe and your sensitive data protected yet accessible.
Efficient and Scalable Cloud Computing Services
Cloud computing can transform your business and elevate your performance, but navigating cloud technology isn't always easy. Through experience, focus and discipline, BACS IT has honed its skills to identify the best path to success. We have deep experience helping companies of all sizes make the right technology decisions. We work with you to understand your vision and create an actionable roadmap that allows you to manage and scale your business better and smarter.
Case study evidence and real-world results confirm that business owners who don't invest in their companies' network security end up losing money in the long run.
As an experienced managed services provider in San Jose and the surrounding areas, we provide the deep knowledge and regulatory foresight you need to make sure your systems and applications are optimized, secured, and properly configured.
Our detailed IT assessment provides critical insights into areas of opportunity, risks, and performance advantage.
We'll define the essential security factors to consider when assessing potential cloud services providers. We'll review cloud hosting security policies and access practices, such as role-level access and operations security practices, including encryption and system monitoring.
5. Emphasize Front-End Innovation Without an Appropriate Backend Infrastructure
Many business owners emphasize front-end innovation without an appropriate backend infrastructure or the ability to effectively manage security.
According to the FBI, phishing attacks alone cost American companies almost two-thirds of a billion dollars in 2017. At BACS IT, we're committed to seamlessly blending the latest in network and cybersecurity with cutting-edge cloud hosting and cloud services, giving your San Jose company unprecedented safety and unparalleled ease of use.
BACS IT is well-versed in the latest security tools and managed services best practices to protect IT systems against today's relentless barrage of cyberattacks. Our expert consultants understand the complexities and challenges of cloud computing deployment and work to ensure your solutions align with your priorities and will scale appropriately.
Reliable Network and Endpoint Security Solutions Across San Jose or Across the Country
Our home base in Silicon Valley, gives us an efficient, flexible onsite presence at any Bay Area business, from San Francisco to San Jose and beyond. We also have the ability to work as an expert managed service provider across the state or across the nation, with scalable cloud technology solutions designed to grow along with your business.
We help you take full advantage of the opportunities a proactive IT approach enables, whether it's growing revenue, capturing market share or enhancing the customer experience. From phone system virtualization to managed cloud solutions, our flat rate managed IT services have made us the consulting firm of choice well beyond San Jose.
As your business needs change and grow, more focus is needed to ensure that technical delivery functions and IT services are designed, implemented, managed and controlled in a consistent manner. Selecting a managed service provider that can deliver the range of capabilities you need is critical.
From Santa Clara to San Jose, CA, BACS offers IT services for small and midsized business operations of any kind. Our consultants consistently track cloud computing and managed services trends to recommend the best solution for your unique situation. We help you define your IT goals, map out the best strategy, and assist you with execution.
6. Hybrid Cloud Computing Solutions for Your San Jose Area Business
In San Jose, having a network robust enough to handle the demands of modern business and secure enough to thwart the most dedicated cyberattackers can sometimes seem like an impossible balance to strike.
At BACS IT, we can help you with your cloud journey, recommending the right technology and the best configuration for your business needs and IT budget. Our cloud consultants work closely with you to define your business requirements and choose the best configuration of cloud-integrated components to advance your business and help keep your vital assets safe and protected.
We provide a comprehensive cloud computing approach, from shaping your strategy and vision through planning, deployment and managed services. We work with you to determine which applications can be effectively migrated and managed over time, taking advantage of the most beneficial and cost-effective delivery model at each stage, whether it's a private cloud, cloud hosting, or cloud backup.
At BACS IT, we understand the challenges and complexities of cloud solutions and work to make sure you to optimize your existing infrastructure and resources, allowing you to easily integrate new applications and functionality while safeguarding your data.
BACS IT consultants work with you to assess your risk potential and develop a disaster recovery strategy that safeguards infrastructure and data and manages ongoing threats. We'll examine and weigh the advantages of storing your most sensitive data on a more locked-down private cloud, providing an extra layer of security.
However, even the best security doesn't mean much if your employees can't access and use the information your company needs to keep running easily and efficiently. By blending the security of an onsite server with the versatility of the cloud, BACS IT can design hybrid cloud solutions that combine the best and most powerful of both worlds.
We work with you to refine your cloud technology strategy and roadmap with an implementation plan designed to optimize your internal infrastructure and resources. We'll assess the capabilities of your IT operations and examine your strategic options, whether it's a private cloud, or a hybrid approach.
Packaged IT Services for Optimum Performance and Results
In addition to custom options, our suite of packaged IT services are designed to accommodate scaled growth and still provide security against many common and emerging threats.
A Word from Chief Technology Officer James Berger on Keeping Your Business Safe
Take a moment and watch this video from BACS IT CTO James Berger. Let him explain the importance of trusted managed IT services in his own words.
Managed IT services has emerged as a powerful resource as businesses discover the advantages of working with an outside IT expert to help keep their IT operations running efficiently, reliably, and securely. In an era where technology is a fundamental driver of business growth, competent IT services are more critical than ever.
At BACS IT, we bring deep industry and technology expertise to the complex world of IT. Our IT consultants work with you to understand your goals, business processes, and technology environment to help you make informed decisions and chart an optimum path to success.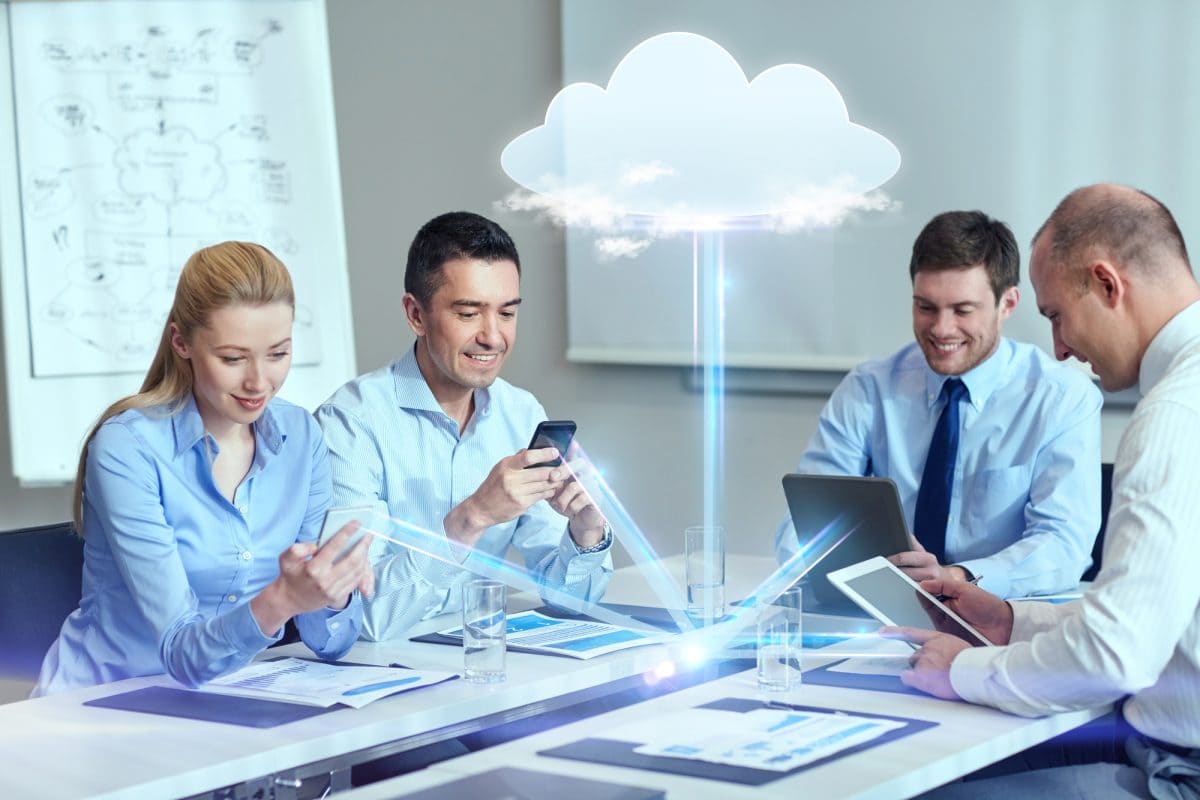 BACS IT Offers Your Business Enhanced Security and Compliance
You'll Gain Improved Efficiency and Dependability of Your IT Operations
Offering Scalable Solutions, You'll Get Wider Access To Advanced Technologies
BACS IT Consulting Provides Predictable Pricing, Managaebale Costs, and Optimum ROI
7. Why Should You Use BACS for Your Company's Network Needs?
Robust IT security shouldn't impede your ability to grow your business. Likewise, business continuity and ease of use shouldn't restrict your ability to keep your network secure or recover from an emergency with seamless and efficient cloud backup and disaster recovery.
BACS's services are well known in the San Jose Area business community and across Silicon Valley as the smart, scalable way to secure everything from your email to your phone system without compromising access or ease of use for those who need it most.
Our IT consultants will work with you to implement cloud solutions that set the stage for growth and innovation. Whether you are implementing new cloud services or working to improve your existing infrastructure to meet your business needs, we'll help you create a cloud technology environment that's orchestrated, automated, managed, and secured.Whether you run a small, emerging startup or a multinational conglomerate, BACS IT has the tools, knowledge, and expertise to create technology solutions that solve pressing pain points, ease infrastructure management, and take your business to the next level. No job is too big, and no client too small to benefit from our dedicated suite of managed IT and security services.
8. Scale Your Business with Confidence: How We Ensure The Growth of Small to Medium Businesses in San Jose
Small and medium businesses in San Jose have to deal with competitive headwinds from all directions. Any small mistake or misstep can put these organizations out of business. It is imperative that small businesses invest capital in the correct way, especially in regards to IT infrastructure and cybersecurity.
Many small and medium sized businesses do not have the technical expertise or do not have the budget to hire the staff to properly handle technology planning and IT management. Many businesses decide to outsource this part of their business operations. Instead of wasting time updating IT infrastructure, your team can focus on the strengths of your business.
Working with an IT service provider can help your business grow. BACS IT works with small and medium sized businesses in the San Jose area. Our goal is to help your business grow by understanding your business. We are dedicated to driving IT improvements to ensure that your team has the tools it needs to succeed.
Our team can identify inefficiencies throughout your network and optimize them, which can boost performance and lower costs. We have a number of talented IT professionals on our team that you can trust and utilize for strategic IT projects. As your business grows we can help you properly scale up all of your IT infrastructure.
We will keep your data safe and secure from potential hackers. We use the most advanced cybersecurity tools and protocols to prevent hackers from accessing your network. If your network crashes, our team will get your network back up and running as soon as possible.
BACS IT will take all your IT worries off of your plate. Our team works closely with each business to develop a customized plan that meets your unique business needs. We can take care of all your strategic and operational IT needs.
BACS IT is dedicated to helping small and medium sized businesses located in the greater San Jose area. Reach out to BACS IT today to learn more about how we can help your business continue to grow and reach your business goals.
Still Not Convinced? Here Are Several Additional Reasons Why BACS IT Should Be Your San Jose Managed IT Service Provider of Choice.
We take the time to understand your business and its needs. You tell us where you want to improve and the results you're looking to achieve. We then work as your team to develop solutions that put you in control.
The job isn't done until you say it is. From the first length of wire to the last service ticket, we're committed to staying with your issue until you tell us it's resolved.
You have a single point of contact. All our technicians are Level 2 or above, and take ownership of issues from first contact to final resolution. This means you have one number and one email address, dealing with one person who can and will resolve your issue as quickly as possible.
We're not limited to San Jose or Silicon Valley. Across the San Francisco Bay or across the country, we're here to help, no matter what kind of business you run.
We're passionate about our work. We always show up show-ready and prepared to do whatever it takes to make sure you get the service and results you expect.
We hold ourselves to the highest standards of ethics, integrity and discretion. As your technology partner, we treat your company's information like our own, keeping it safe from those who shouldn't have it and accessible to those who should.
With our flexible managed service provider model, you benefit from more predictable pricing and manageable costs, allowing you to better plan and budget for larger IT projects and improvements without the restrictions of a lengthy support contract.